29 June 2016
With the so many different kitchen benchtop material options available today, it can be a daunting undertaking to narrow down what is right for your particular kitchen style. But by first knowing how much you are expected to pay for different countertop materials available in the market today, you can easily select a type that best suits your kitchen style and decor. The prices for benchtop materials vary greatly from one supplier to another. With this in mind, here is a summary of probable countertop material costings to help you on your way.
Solid timber
While solid wood benchtops are no longer as popular as they used to be, timber still makes a good material choice. The main reason for their declining popularity is that timber requires a lot of specialized maintenance compared to other countertop materials. Nevertheless, solid timber offers a warmth and beauty that just can't be matched by other materials.
As a result, it is popularity is slowly increasing once again. Different types of solid wood materials are available in the market for your selection. For instance, a 35 mm-thick raw bamboo countertop will cost you around $300 per square metre. Homeowners that want to your solid wood countertop professionally installed can expect to be set back by around $500-$1700 per square metre.
Quartz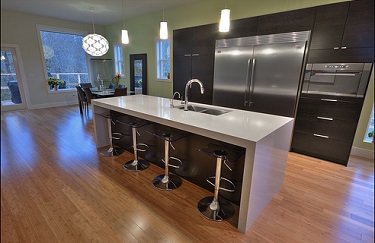 Quartz is commonly referred to as engineered stone as it is manufactured from a mixture of crushed resins and granite. The fact that it offers more consistency in colour when compared to natural stone has made it more appealing to a lot of homeowners.
All in all, a new quartz benchtop will cost you around $500-$1500 per square metre, depending on your personal requirements. This price range includes installation costs by expect stone masons. With quartz, you have the option to have a cut-out for an under-mount sink, and can also add drainer grooves, both at the same additional cost as granite.
Marble
This is a classic and magnificent natural benchtop material that has been used for decades now. Prices for marble benchtops greatly vary depending on a number of factors. Whichever the case, expect to pay anywhere from $700 and $2500 per square metre. For add-ons such as under-mount sink cut-out, expect to pay around $300, and for drainer grooves approximately $400, if desired.
Granite
Granite is a gorgeous, natural stone that has always been a popular material for decades now, due to its timeless look, availability and durability. These features notwithstanding, new granite countertops will cost you anywhere from around $500 to $2000 per square metre. This price is inclusive of such things as having your new benchtop manufactured to size, template and then installed by expert stone masons. The majority of masons will charge extra for add-ons such as under-mount sink cut-out because of the extra work involved in polishing the exposed edges. For grooves, expect to pay an additional $400.
All in all, while the above list of benchtop materials is not all inclusive, it will give an idea on what you can opt for. Visit a store that offers wholesale marble in Perth for more details on benchtop materials that can perfectly suit your requirements and kitchen style.