05 April 2017
Having a self-sufficient outdoor entertaining area is a vital part of the great Australian dream, after all, who doesn't love a good barbecue on a warm night?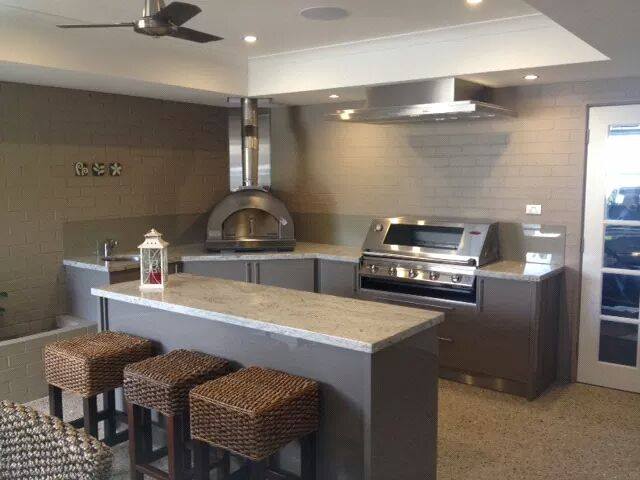 During the design process, it's easy to get caught up in choosing your outdoor kitchen's cabinets and appliances, and selecting the benchtop material as an afterthought, however, choosing the right countertop material early in the process is essential.
Create a Breathtaking Aesthetic
The colour, shape, size, texture, and finish of your outdoor kitchen benchtop won't only impact how effective your workspace is, it will also influence the overall atmosphere of the area.
Each part of your alfresco's design should come together to create one, cohesive space. So, when you're choosing your cabinetry, flooring, and even any accessories for your space, always keep your benchtop material in mind.
Granite is a multi-purpose material in the sense it comes in a range of different colours and patterns, and can be customised to suit almost any kitchen design. Granite is also particularly beautiful when used in in an alfresco, as the stone will blend perfectly with the natural surrounds.
The Benefits of Granite as an Outdoor Countertop
When it comes to choosing the benchtop for your alfresco, you can't look past the strength, durability, and aesthetic appeal of granite. Widely regarded as the best outdoor benchtop material, granite surfaces are heat-resistant and easy to maintain.
However, the biggest benefits of granite benchtops are that they're an eco-friendly material that is manufactured to stand the test of time.
How will a Granite Benchtop Stand up Against the Elements?
Since it's going to be exposed to the elements year-round, how does granite withstand heat, plummeting temperatures and sun exposure?
The best thing you can do to minimise the effect of the sun on your benchtops is to make sure your outdoor kitchen is covered, whether it's built into an enclosed outdoor area, or is shaded by a gazebo, umbrella, or even trees, your granite countertop will be protected against Australia's harsh UV rays. This will not only prevent the surface from fading, it will also ensure your benchtop doesn't get too hot to touch when the sun is at its strongest. For the same reason, it's also best to avoid using a very dark colour for example plain blacks as they can absorb too much heat if exposed to direct sunlight and cause cracking.
Ensuring your kitchen is undercover is the easiest way to prolong the life of your benchtop, and some form of cover will be a good investment.
Caring for Your Granite Surface
To ensure your granite benchtops live to a ripe old age, talk to G.C Smith & Co about how to care for your specific type of granite countertop.
However, as a general rule of thumb, check to see if the granite needs to be re sealed over time and always use a non-abrasive detergent/cleaner to remove dirt and grease that builds up from food, oil and other general outdoor grime.
Finally, keep your benchtops covered and have them re-sealed on a needed basis, and your granite benchtops will be kept looking beautiful for years to come.
If you're looking at installing a benchtop in your outdoor kitchen, talk to the team at G.C Smith & Co today!