21 September 2016
When it comes to tasks such as kitchen refurbishment or renovation, you need to factor in a lot of things such as space, design and budget and even the easiness of the work. The mistake that most homeowners make is giving other rooms a facelift and then forgetting about the kitchen space. You should note that your kitchen is one of the most important rooms in your house. Below are simple solutions to help you change the appearance of your kitchen in no time: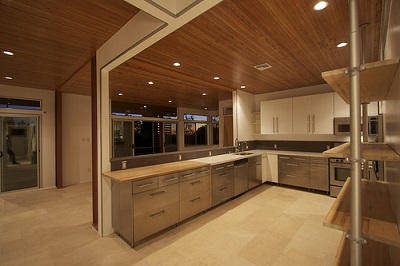 Shop online and go easy
The internet is an important resource where you can do almost anything, so shopping online for adverts is no exception. Here, you will find people selling their furniture at throwaway prices, and so you may want to take advantage of this. Surprisingly, most of these kitchen items are still in good condition. All you need is to check on the colour as well as the dimensions of the product you are buying so that they can fit in your kitchen and complement with the rest of the kitchen space.
Use classy wall stripes
You may also want to emphasize on some specific spaces with the help of designs such as wall stripes so as to help in changing the look of the area. It is not wrong to opt for some striking colour contrast as long as it emphasizes the remodelling part. But most people tend to choose colours that will complement the rest of the room's décor.
Paint your cabinets, don't replace them
It is not a must for you to replace your kitchen cabinets with new or stylish ones. Painting your old cabinets is another great and cheap way of giving your kitchen a facelift. Also, glass tiles come in handy especially when used on the kitchen cabinets. And you can cut and use it for your kitchen splashbacks.
Retro style makeover is great too
Why not try a retro makeover for your kitchen? This can easily refurbish the space. You may opt for the stainless steel sinks, metal cabinets and kitchen bench tops that can give your kitchen the most wanted retro feel. Installation of classic kitchen hardware and use of repetitive patterns on the walls can be another great way of giving your kitchen a facelift.
Give your kitchen ample bench space
You want to end up with a functional kitchen, so it is important to have ample bench space. You should not clutter your kitchen bench top with lots of items. Also, you need to design some enough space for your microwave, so it is always out of the way.
Hire a pro
Working with a professional is the best way to help you avoid unnecessary expenses in future. They will advise you on the best materials and ways to use when giving your kitchen a makeover. You can shop around for the best contractor. At G.C. Smith & Company, we specialize in stone kitchen bench tops that can give your kitchen a new look. Contact us today for your kitchen renovation needs.