27 April 2016
The first thing you need to think of when we think of a kitchen benchtop is that it should be safe to work on and that it should create a warm and inviting environment when family and friends gather around it. This is an area we spend a lot of time since all food preparations have to be carried out from here. We want a countertop that is easy to maintain and that will still ensure that we are safe from ailments that may arise from bacteria commonly found in the kitchen.
You can visit your local dealer who specializes in headstones in Perth and he will advise you on what works best in your kitchen. Below are examples of kitchen benchtops that are maintenance free and durable.
1. Composite stone benchtops
The industrial term for composite stone is quartz. They are usually cut from pure marble, granite and sandstone and they give a very attractive finish to benchtops. One of the advantages of a kitchen composite stone countertop is that it does not absorb liquid which makes cleaning easy and more effective.
When preparing foodstuffs such as raw vegetables and meat it makes it easy to clean after and this ensures your kitchen is hazard free from bacteria that usually lodge in other countertops such as wood. In case of spills such as wine and oil, these countertops do not stain and this ensures that your benchtop maintains that new look for a long time.
2. Granite benchtops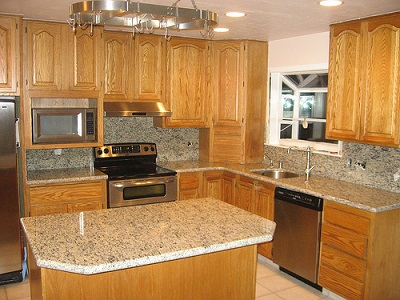 Granite is a tough stone that has high durability. Installing a granite countertop in your kitchen will give that natural look to it in addition to the fact that is easy to clean. Granite is scratch free, meaning that it can handle even the most rigorous tasks in your kitchen. Granite does not have pores so bacteria that come from food cannot thrive in the countertop thus ensuring that hygienic and safe environment in the kitchen. In the case of damage, granite is easily repaired that means you save cost other than having to replace the whole benchtop.
3. Laminate benchtops
Laminate benchtops are partially made of recycled materials, meaning that they are eco-friendly. It does not cost much to install a laminate countertop. They come in various shapes and sizes and they give an attractive finish to your kitchen. Laminate gives out that metal look and comes in different colors and designers love working with this material since you can easily fit it on other surfaces too like the bathroom. Cleaning a laminate countertop is easy and it guarantees you a bacteria-free environment and ensures a safe cooking environment in your kitchen.
4. Zinc benchtops
Zinc is a metal that is easy to work with. You can customize your kitchen benchtop to any design and it gives a fantastic finish. It is a non-porous material, meaning that you can simply clean it with soap and water and does not give bacteria an environment to thrive in. Zinc is a living metal which means with time it changes due to its reaction to the environment which gives a more natural and unique look.